2021.12.03 
As part of our initiative to address social issues, " Leadership Ecosystem® ", on Sunday, November 7, 2021, students and staff of the "Support Project for High School Students with Foreign Roots" implemented by certified NPO Katariba. For a total of 10 people, we provided a pro bono workshop to improve communication skills using an assessment tool called Insights(R) Discovery.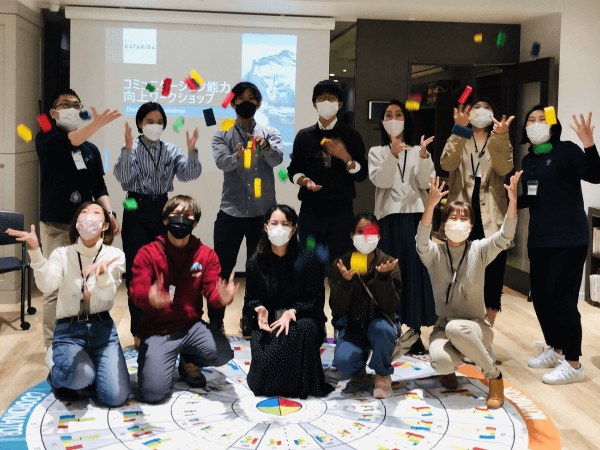 ■ Background of implementation 
Aiming to create a society that nurtures the ability to create the future, regardless of the environment in which it was born and raised, the certified NPO Katariba, which engages in educational support activities for teenagers, conducts a project to support high school students with foreign roots. In today's Japan, the number of high school students who need Japanese language instruction is increasing year by year. In this project, such high school students recognize their own nationality and upbringing as strengths, and provide educational programs and support to learn from "differences" together with people who interact with them. We asked about Katariba's activities and sense of challenges, and this time's pro bono training was aimed at students who plan to find a job or go on to study in Japanese society after graduating from high school. This was done with the aim of deepening the thinking. HP of Katariba  
■ Solution tools used 
The tool used to support their awareness is Insights(R) Discovery . Based on Jung's type theory, this assessment tool clearly expresses human cognitive tendencies as four color energies. In addition to simply returning the assessment results, the workshop was designed so that participants could understand the differences in cognitive characteristics between themselves and others, accept themselves, and engage in communication with others. Did. 
■ State of the day and impressions after participating 
There were 3 foreign students who participated this time, and 7 Katariba staff members. The workshop lasted about four hours, with English interpreters being used where necessary. Immediately after the session started, the students looked nervous, but gradually they began to speak more positively, and the atmosphere became lively. After participating, the following comments were received. 
This is the first time a workshop has been so carefully planned. I want to participate more and more in experiences that will benefit me. 
 
I want to be more confident in myself, take pride in myself, and tell those around me.
 
At school and in my daily life, I often reflect alone, but in the workshop, I was able to see other people's eyes, and I made a discovery by doing it in a group. (Omitted) I was able to objectively learn about my blind spots. 
 
It was so interesting and fun! I got to know myself and realize how I was viewed by others. By knowing that, I felt that I could improve and devise (communication) by myself.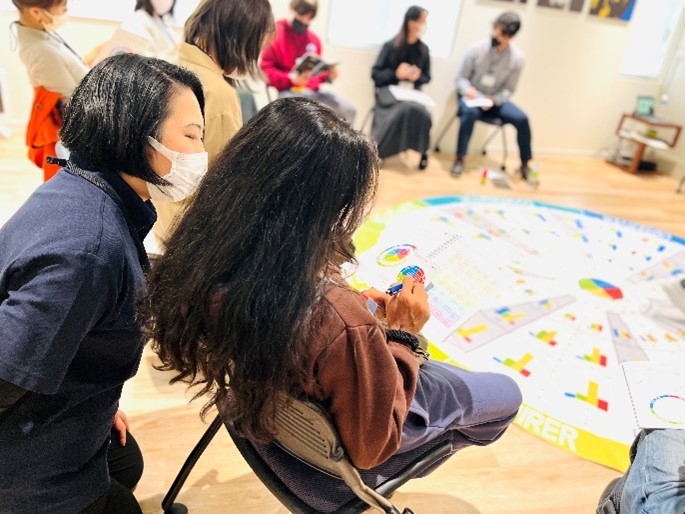 In addition, we received the following comments from all the staff who participated together. 
It was a great opportunity for the students. It was the first time that I had participated in such a detailed workshop, and when I understood the results while talking to the people around me, I wondered if my feelings of relief were so different. 

A year ago, I was surprised and moved by the way the students, who were all they could do to answer questions, this time actively tried to talk about their own characteristics. 

I would like more students to participate. I want to call out to get a lot of people involved. I also appreciate the multilingual support. 
Later, a staff member said, "Even on the way home, the students continued to talk. I think they really learned a lot. They also feel the value of being connected to a community outside of school and home." I was very happy that the people involved were able to push their backs. 
■ Development of future activities 
On its website, Katariba says, "The language barrier is just the tip of the iceberg. Lack of social connections" and "lack of opportunities to develop skills" are contributing to the success of high school students with foreign roots. It has become a bottleneck in Even during this training, some students expressed their anxiety about going out into the world. We will continue to provide opportunities for leadership development so that they can open up new possibilities while making the most of their opportunities, interacting with those around them, and mutually influencing each other in the society they participate in after graduating from high school. After consulting with the secretariat, we would like to design and provide it. 
Examples of opportunities provided ) Partner participation in community action learning (CAL) , provision of resilience workshops for students, etc. 
■ Outline of "Communication Ability Improvement Workshop" 
[Date and time] Sunday, November 7, 2021, 13:00 to 17:00 
[Venue] At our office i-Studio 
[Target] Mr. Katariba "High school students with foreign roots Support project "3 students, 7 staff 
[Content] Communication skill improvement program using the  assessment tool Insights (R) Discovery

Pro bono training results report: 1st , 2nd  , 3rd
Donation report: 1st , 2nd time 
For more information>>> Leadership Eco System