"Experience is not what happens to you, it's what you do with what happens to you" – Aldous Huxley
Right now, the moment is one of lockdown. All of a sudden, no jogging, no going out, stay home. This situation is causing complex and often contradictory reactions: some think of it as an opportunity to take stock and think; others believe they have even less time to think than before.
Just about everyone has thought that the lockdown has at least one advantage: the opportunity to sit down, plan ahead, think back and perhaps wonder whether we have been doing things right, whether our 'models' are sustainable.
For the moment, relations between people have been intensified, thanks to digital technology and the sense of being close to others through constant exchanges on the web.
Everything OK then? Yes, if it weren't for the fact that we seem to not be noticing that we are doing exactly what we did before Covid-19. We want to be present (actually we would like to be everywhere, present to everyone). We are reacting quickly and this rapidity – as before – is the measure of our intelligence and success.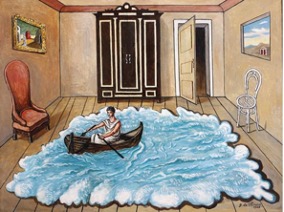 The risk is that we'll fail to make the best of this experience of suspension, that we won't have a genuine experience. In other words, we will continue to be like Ulysses in the painting by De Chirico (The Return of Ulysses), rowing in our living-rooms, made of stone (unchangeable) and with the same approach to life (habits) as before.
ULYSSES is the archetype of intelligence, ingenuity, the overcoming of one's limits, and the ability to face and overcome challenges through courage and resilience (despite all manner of mishaps, shipwreck, enchantments, etc.). Above all, Ulysses moves physically in and through the world, a soldier who measures his value with and against that of others. Modern, multiform, he is criticised by Dante for being the emblem of the refusal to accept limits of any kind. For Ulysses, limits signify lack.
PENELOPE, on the other hand, does not move through the world. A strategist in her apparent immobility, alone and powerful, she rules Ithaca and dominates time and space. She attends, she does not wait. When we wait, the event we are waiting for 'doesn't depend on us'. We wait, passively, at the mercy of what is to come. Whereas 'attending' means moving towards something, it is attentive, intentional, a beneficial form of tension. For Penelope, limits are positive.
Managerial culture, up to now, has always chosen Ulysses. Today it has the opportunity to include Penelope in its vision, bringing together movement and permanence, concrete undertakings and thoughtful stillness, impatience and the ability to bide one's time – to abide. This would raise Penelope to the level of Ulysses, restoring her to the position she deserves.
Inclusion is a generative act, leading to fresh awareness as the result of a deliberate choice. We now have the opportunity to be attentive to the changes that are taking place around us, and to accept this 'test', transforming the changes we see in the world into changes within ourselves, individually and collectively.
Now that we find ourselves in Ithaca with Penelope, before we return to our rapid, busy lives, we may discover what we have lost:
a taste for life and understanding of our vulnerability

the ability to pay attention to what is happening, to others, to ourselves

the primacy of taking action – of attending, in order to pursue a given aim, over doing

the inclusion of the value of being alone and of being with family in our idea of success
'It'll be alright', is the reassuring message we keep telling ourselves. It is a comforting thought. But it would be better than alright if we hold onto Penelope when we all begin the back to work phase of our lives, when post-crisis productivity is likely to be the order of the day.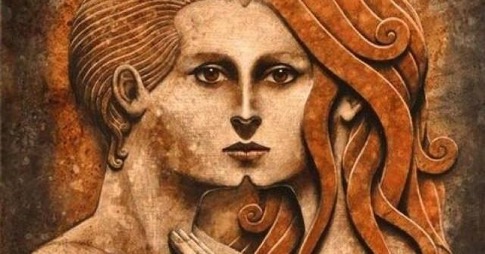 Stella Privitello is a Senior Consultant at Impact Italia.