A few weeks ago, I took part in an 'Adventure Day' led by Impact consultant and adventure enthusiast Mark Quest. As a fairly new member of the team, it wasn't until this experience that I truly understood the magic of Impact's outdoor experiential programmes. Selling adventure programmes to clients can be a challenge, because no two are the same, and adventure starts at the heart; you need to be there, immersed in everything the experience has to offer.
We weren't given much information in advance, just the basics: start time, location, what to wear and what to bring. On the day, a video was sent out to our group announcing that we would be going caving. There was a note on the door of our Stores building saying what we needed to do, and when the lead team would arrive to take us to the caves in Ingleton, North Yorkshire.
The day was really well thought out; from the beginning we had to fend for ourselves and sort out our own kit, communicating with each other and working together from the outset.
On arrival at Ingleton, we donned our boiler suits and headed up to the cave, listening to the prepared podcast as we went. It was what might be described as 'bleak' under different circumstances ­– grey, cold, windy, with a snow-covered Ingleborough looming over us. This was actually one of my favourite parts – how often do we allow ourselves to tune out of everything and become absorbed in a story? The surroundings made it all the more immersive.
In the caves we split into two groups. Most of us were not experienced cavers, so we put our trust in our guides and in each other. One moment that stands out for me was when we had to get around a deep pool of freezing cold water. I was one of the first across, although getting there was a test of my inner strength and I was definitely out of my comfort zone. Stu then found himself stuck, unable to find a way forward to reach the other side. After a brief internal discussion with myself, I decided that I could help him, and I stepped forward to offer my hand. I don't think he was totally sure it would work, and in the split second in which I had to either make it work or drop him, I did think I'd made a terrible mistake. However ­– much to our relief – I managed to help him up to dry land safely.
The reason why this was such a pivotal moment for me is that about ten years ago, while on a similar experience in the South of France, I did not have the confidence to offer that help. I didn't believe that I could help or contribute in any way. On that occasion, the others in the group were more experienced in the field and they went ahead and got on with it. This time, we all had a similar level of uncertainty in the caves, and I felt that we supported each other better as a result.
I can also relate my time in the caves to past working experiences in which I have not had the support of my peers and colleagues, and therefore did not believe there was anything I could contribute to a discussion or meeting. Maybe some of this was due to inexperience, but I am very much of the opinion that cultivating a supportive environment with strong communication and openness is the way to build an excellent team.
At the end of the day we were filmed talking about why adventure should be used in programmes. I spoke about people getting bogged down in their comfort zones, so much so that they forget what an adventure is, what it can give them, and that an adventure doesn't have to be an extreme sport ­– the two are not synonymous.
We do adventure really well at Impact; we have the skills, the knowledge and the passion, and we are based in the fourth coolest place in the world to visit (according to National Geographic). In this sense, we can offer something amazing that not many others can.
Learning by adventure: it's hard to fully understand its power until you experience the magic for yourself, but if you allow it, it can have an incredibly positive impact on every aspect of your life. See below for our Adventure Learning Model: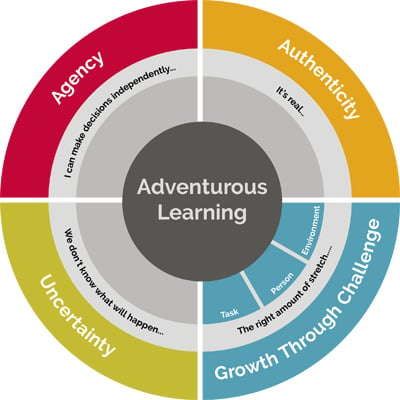 Gabrielle Thorpe is a Programme Coordinator at Impact, you can connect with her here.