What is the single most useful thing about the 70:20:10 approach?
In my experience the 70:20:10 model is a useful starting point to a conversation about designing a learning and development intervention. It helps ensure that the conversation covers a range of settings within which learning can and should take place.  But it isn't any more (or less) than a prompt to bring to the surface assumptions about how people learn.
Are there any problems with it?
The problem with any model, or way of framing assumptions, is that it can all too easily be mistaken for the truth. 70:20:10 isn't a deep truth about 'how people learn' in an organisational environment. Nor is it an irreducible template that dictates the necessary outcome of the design of a learning programme. Does it mean an organisation has somehow "got it wrong" if 25% of the overall Learning & Development budget is being spent on formal, face-to-face interactions?
Have you ever seen an organisation run into these types of problems?
I have seen 70:20:10 being deployed in this way in some organisations, and it leads to a collapse in L&D spending. This in turn affects the power and influence that L&D has in supporting the wider business strategy – and is often symptomatic of an assumption that L&D is simply about commissioning and implementing formal learning activities.
Can you give us any examples of it being used successfully?
Thankfully, many L&D professionals are using 70:20:10 as it was intended - as a guide - and many of our conversations with them focus on how intentional learning design can support performance of individuals, teams and their business overall. There is also a recognition that just because it is possible to learn on the job doesn't mean that employees will, or that such learning will be effective. What is required in a learning strategy is that it doesn't just focus on the 'what do we need to learn?' but equally as importantly on 'how will we design that learning?' and crucially 'how do we know that the learning has been effective?'
Does 70:20:10 make it harder or easier to measure ROI on learning spend?
At Impact we use 70:20:10 in a performance context. It's particularly useful when we discuss the need to elevate performance beyond just increasing the numbers this year to embedding a performance culture that can successfully adapt ahead.
Our conversations tend to focus on ensuring that any investment not only transfers knowledge, builds skills and shifts behaviour but that it also builds the capability to continue to learn. Unless organisations can learn they can't adapt and if they can't adapt in the global marketplace then they won't survive. Performance isn't a static metric it is a constant improvement challenge. It isn't getting any easier, but using a 70:20:10 approach can help.
How does Impact's approach to experiential learning fit with 70:20:10?
We find it straightforward to connect 70:20:10 with our own integrated learning model which has been carefully refined over 35 years across a wide range of organisational settings.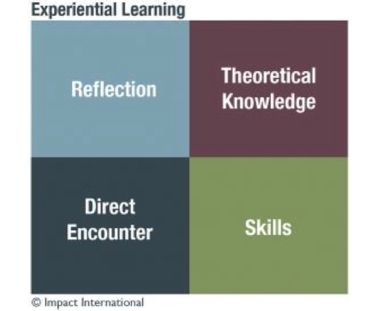 We believe 70:20:10 reinforces our view of the power of experiential learning and it's relevance to the contemporary challenges facing workplaces everywhere.
Without getting into a lengthy description of what we mean by experiential learning  - it's a big topic – the 70:20:10 model illustrates the importance of what we might call 'direct encounter' and the value of 'reflection and review'.
Direct encounter summarises the need to contextualise learning and translate it into action. In simple terms this is the ability to combine knowledge, skills, wisdom and experience to deliver practical, desirable outcomes; in other words, to perform. We can only learn how to improve our performance if we have access to a structured process for practicing and then reviewing that performance in the light of experience and to have access to expert reflection to process the learning into sustained performance growth. Only then do we have the tools and the process in place for what all organisations are looking to achieve, constant, consistent improvement in behaviours.
How can the 70:20 part of the model be best brought to life?
A senior leader in a large organisation said to me recently:
"We delegate learning to the line here, people learn to do their jobs on the job"
I asked her how they provided training and support to their line managers to ensure that they were equipped to help their people learn. She replied 'that's their job'. I had a sense that the conversation was over.
In my opinion 70:20:10 only works if all of three elements are brought together and carefully supported.We are finding that our business simulations are particularly popular at the moment, precisely because they breathe life into the 70:20 bit. Good simulations accurately and powerfully model the business we are working with and create opportunities for learners to directly encounter learning challenges that they face everyday. Simulations offer a controlled, facilitator led and context rich experience with opportunities for expert review and reflection. The results we see are profound. Simulations are a great and practical example of designing integrated learning processes that connect the elements of 70:20:10 together.
What do you think the future is for 70:20:10?
Any model of the world is only as good as the people/processes using it to guide their action and inform their practice. 70:20:10 is still relevant as a model. But the mechanisms, processes and thinking that we use to apply that model to our organisation learning challenges need to continue to evolve. In other words we need to continue to improve our performance in implementing and improving the model. After all isn't that what learning is all about?
What is your experience of using 70:20:10? Please comment below.
Grahame Broadbelt is Global Head of Communication and R&D.