Impact's Charlie Somers Cocks scooped an incredible 5 gold medals for Team Great Britain at the World Masters MTB Orienteering Championships for the Masters Age in Portugal. The event took place alongside the European Championships for the Elite riders and it was also one of their World Cup events.
Here's her recap of the event and her amazing experience.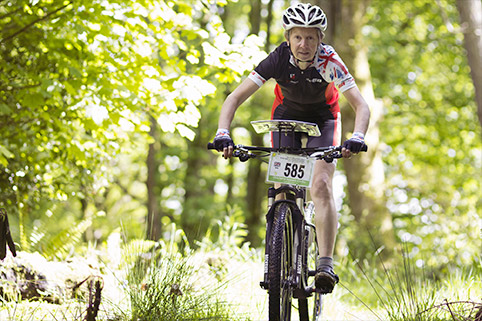 Mind
Imagine yourself taking some exercise –  a brisk walk that gets you slightly out of breath or a run or cycle ride. Do you think you'd be able to do your 7 times table or recite the alphabet backwards at the same time? Most people struggle with such mental/cognitive agility whist their limbs are demanding a good supply of blood and oxygen. This scenario is perhaps the closest parallel I can use to describe the sport I do - Mountain Bike Orienteering.
I move up to the line and at my start time I am given a map with a course for me to navigate around as fast as possible. It is the first time I see the course and usually the first time I have been in the area. The course is a series of  "controls" that I have to find and record my visit with a microchip strapped to my finger. The course is normally in a forest with a patchwork of tracks and trails and just to add to the complexity, there are several courses with other controls to cater for the various classes of competitors. Finding the right control and choosing the quickest route is all part of the game. All the information that I need to do this is on the detailed map, the challenge ensures that I have enough blood going to the brain to process all this. Like a time trial we set off at 3 or 4 minute intervals so there is no following the person in front. You have to commit 110% to every route choice and be on the ball with your navigation for the entire course. There are no down times where you can just bike fast. You always have to think hard - one mistake will cost you places - but if you get it right it is absoutely exhilarating.
Body
Fitting in training whilst working full time as one of the senior consultants at Impact can be difficult. Many people would probably be shocked to find out how little training I actually do. At weekends I will try and get out on a bike on both days and then mid-week I'd ride with a group on an evening both winter (with lights) and summer. I end up travelling a lot for work, spending endless hours on trains, in airports, on aeroplanes and in nice hotels - but this is not always conducive for training or a healthy lifestyle. When I can, I either do some training on a gym bike or turbo trainer or get out for a run in a local park. One of the most important things for me is to see the value in all sorts of types of training. Developing my ability to concentrate can happen in all sorts of situations. When I was training for the World Masters foot orienteering some years back, most of the top people went to a big Scottish 6-day orienteering event that year as preparation. I took a different approach and decided to go sailing in Cowes that week instead. I too had a week of racing, it was just that I had to concentrate on trimming the headsails and the spinnaker. I was also the navigator, calculating things like tidal sets, with lots of bearings on buoys scattered around the Solent and working out which was our turning mark. For me there are lots of different ways to acquire and hone the skills you need in life, it's simply a case of being open-minded and taking what you can from each experience.
Spirit
In the UK this sport is entirely self-funded even at the Elite level. There are no mechanics, managers, coaches, physiotherapists or psychologists on our team. We have to do all those roles ourselves. Some of us have been going away together to competitions for over 12 years and this has helped us create an amazing team atmosphere.
I am one of three Team GB selectors and when away I am normally asked to take on the role of "team manager/coach". The parallels between this and managing a team in a business world are direct - allowing individuals to perform at their best whilst also having to perform yourself. When Masters World Championship Medals are at stake this can feel quite daunting, but our team is an amazing collection of individuals who over the years have found the benefits of us all working together. We have a geologist (Bronze medallist) who works down a mineral mine under the North York moors; a Primary School deputy head (Gold medallist) who, this year, is coming back from a "tumble" off his bike last autumn where he broke over 20 bones including 3 vertebrae and 5 ribs; a senior advisor with Natural England (Bronze medallist) an IT software designer, an optometrist, a retired teacher (Bronze medallist) an Army Captain and a doctor (Gold medallist) to name but a few of the regulars. The Great Britain team is respected by the other countries not only for how we perform at the races but also for our camaraderie within the team and with people from the other nations teams.
I am proud to race for my country but even prouder to be a part of this amazing team.