The COVID-19 pandemic has affected the economy and job market in a way many of us have never seen before. Some organisations have been forced to close with no re-opening dates in sight. Others have sadly gone into administration. Businesses in the supply chain have seen an impact on their bottom line due to contract cancellations and postponements. As a result, over 170,000 UK workers have lost their jobs.
With the effects of a damaged economy set to be felt for generations to come, a lot of focus has been placed on wealthy individuals and their ability to help out. Many conversations have focused on the likes of Jeff Bezos, whose personal wealth increased by $48 billion during the pandemic, and wealthy company CEOs who earn, on average, 117 times more than their workers.
A number of these company chiefs are leading by example and sacrificing a percentage – sometimes 100% – of their salary to help their companies ride the coronavirus storm. People management organisation Impact International has compiled data on the CEOs and chairpersons who have sacrificed income. Here, we discuss the trends and delve into the sectors with the highest number of salary-sacrificing leaders.
CEO salary sacrifice: the key findings
The data focuses on CEOs who have publicly stated they will be giving up some or all of their earnings. It found that, of the CEOs who have sacrificed income to help their businesses during COVID, 41% have given up 100% of their base salary. A further 32% have given up between 50–99% of it.
CEOs in the struggling aviation and hospitality sectors are leading the way, making up 32% of all leaders sacrificing salaries. Fashion and retail businesses form a further third, while the final third is made up of the entertainment, travel services, electric, financial services, automotive and vehicle for hire industries. The highest average donation comes from the financial services sector at $4.15 million. The largest total pledge amount comes from CEOs of media organisations, totalling over $10 million.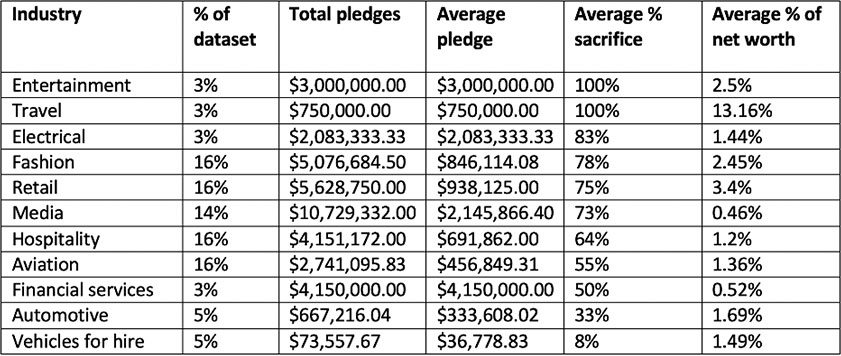 Who is sacrificing their salary and why?
Leading the way is Disney's Executive Chairman, Bob Iger, who has given up his entire salary for a year. The company's CEO, Bob Chapek, has taken a 50% cut, while its executive-level staff will take 30% cuts. Disney has seen huge success in its streaming platform, Disney+, which currently has 10 million subscribers. The company has, however, experienced shortfalls with its theme parks closing.
Aviation and hospitality businesses are amongst the hardest-hit by the pandemic. That's why it's encouraging to see leaders in these industries sacrificing their income for the sake of their businesses. The three Airbnb founders have given up their salaries for six months. While the business was required to lay off staff, it pledged to pay them 12 weeks' salary and finance their health insurance for up to a year. Clearly, these executives have been on leadership training programs!
Delta Airlines' CEO Ed Bastian has similarly given up 100% of his salary for six months, while Heathrow Airport's John Holland-Kay will only accept 25% of his pay. Arne Sorenson of Marriott announced in March he would be forgoing his salary for the rest of 2020 and that his senior executives would be taking a 50% pay cut. Online travel provider Booking Holdings' CEO Glen Fogal, meanwhile, is halving his salary. John Zimmer and Logan Green of Lyft, and Mark Hoplamazian from Hyatt Airlines, made smaller contributions of one month of their salaries.
Is sacrificing salaries enough?
While these company leaders deserve praise for doing the right thing and sacrificing often large portions of their wages, there is still some criticism. For many of these CEOs and company leaders, their bonuses and additional compensation far outweigh their salaries, and few have committed to giving up this additional source of income. One leader who has also given up this additional income is Ralph Lauren, executive chairman and chief creative officer of his namesake organisation. The fashion mogul is giving up both his 2020 bonus and fiscal 2021 salary, which equates to around $11 million.
There's also the question of net worth, which is often factored into conversations around wealth and financial support. All these donations come to an average of just 2.7% of net worth. However, it's also worth noting many individuals' net worth does not equate to money in the bank. Instead, much of it is tied up in stocks, shares and investments.
Strong leadership is more important than ever in these trying times. Leading by example and taking pay cuts to alleviate the burden on businesses and employees is to be applauded. While it could be argued that leaders can afford to donate more, it's good to see altruism in effect. After all, great changes start with small steps in the right direction.
Sources
https://www.cnbc.com/2020/06/06/how-much-americas-richest-are-donating-for-coronavirus-relief.html
https://variety.com/2020/tv/news/bob-iger-disney-bob-chapek-salary-cuts-coronavirus-1203548824/
https://www.businessofapps.com/data/disney-plus-statistics/
https://www.ft.com/content/9d971c48-2fa5-11ea-a329-0bcf87a328f2
https://www.inc.com/minda-zetlin/lyft-airbnb-ralph-lauren-founders-give-up-salaries-to-help-employees.html
https://www.forbes.com/sites/jackkelly/2020/03/30/ceos-are-cutting-their-own-salaries-in-response-to-the-coronavirus/?sh=5ed1a9d83e91
https://www.businessinsider.com/list-of-business-leaders-giving-up-salaries-during-the-pandemic-2020-3?r=US&IR=T#marriott-6
https://variety.com/2020/tv/news/bob-iger-disney-bob-chapek-salary-cuts-coronavirus-1203548824/
https://www.telegraph.co.uk/business/0/job-losses-uk-coronavirus-covid/