Do you remember back when we used to imagine the future as an unthinkable VUCA world, and spend our time preparing our leaders to be part of it? Well, who would have thought that part of that world would involve Arnold Schwarzenegger giving public service broadcasts whilst cuddling two pygmy donkeys?
 
For me, this was a delightfully surreal moment – one of the unexpected highlights of the 'new normal' we all find ourselves in.
At Impact, we recently ran a webinar called 'Leading the New Normal'. Two hundred people from all over the world joined us as we gathered together to share our experiences, offer perspectives about what the 'new normal' is, and what the implications are for leadership.
Part of the session was a lively debate around four key questions. In the current context:
What's taken you by surprise?
Have you had any unexpected challenges?
What about any unexpected benefits?
What have been the implications for leadership?
The questions provided an open space for colleagues to share what was going on for them. Why don't you try it now? Have a look again at the questions and write down your answers.
Think about how you responded. Which question were you drawn to first? Where is your energy at the moment and what does that say about your current context?
Here is a playback of some of the things we heard on the webinar:
Surprises
'How technically easy it was to set our staff up to work from home. It's something we have refused when people have requested it in the past.'

'Some have nothing to do and some are overloaded.'

'The surprise for me is how differently we have all reacted.'

'I was surprised by how quickly we are adapting to new ways of working.'
Unexpected benefits
'We are breaking into a culture which values face time over work output.'

'It took a pandemic to bridge some of the gaps within the workforce (even between generations) around virtual and remote ways of working and the benefits they offer.'

'It has brought people together despite social distancing – right now people are vulnerable and thus more human.'
Unexpected challenges
'Logistics and my own headspace – it can all feel a bit much.'

'Some of our leaders are still expecting their team members to work in a "business as usual" manner.'

'Some are still not prepared to build or maintain trust, team rapport or productivity as they navigate their own blind spots and biases.'

'Working at home with children is difficult.'
Implications for leadership
'The notion of the single point leader is being challenged, making way for a more collaborative, shared and distributed leadership.'

'Leaders have to be able to find new ways to build psychological safety within their team BEFORE they can move forward with plans for a new normal.'

'It's an opportunity to redefine what 'normal' will be when we move beyond this pandemic. We should pay attention to the recovery stage. We won't go from this environment straight back to normal – we must recover first: physically, mentally, emotionally and economically.'

'Leaders are going to need to stretch, learn and grow more than ever.'

'We all need to be more empathic, understanding and flexible.'
This list provides a snapshot of our lively and thoughtful dialogue. It was honest, moving and full of wisdom. Notice how you felt when you read these comments. What resonated with you?
It also provides a snapshot of a particular moment in time. Were we to ask this question again in a few weeks' time, I imagine that we'd all share new perspectives and ideas. One thing I have noticed is just how quickly things are happening, and how we are all navigating this new normal, assimilating our experiences, and making sense of the world in our own unique way.
Covid-19 has shone a light on the need to hold our own truths lightly, as well as revealing the importance of finding truths in others' experiences. It demonstrates that none of us are alone in this. I know that many others are feeling a similar way to me: just trying to make sense of the world, latching onto anything relatable or understandable, and finding themselves delighted by surreal moments of humour. But was the future really meant to be like this?
Let's not kid ourselves, things can feel truly terrible right now, but they can also be weirdly inspiring. We find ourselves on a rollercoaster full of emotional sucker punches, scrambling to deal with a surreal mixture of fear, beauty, disbelief, laughter, anxiety, grief, and surprise.
The joy-filled moments shared on WhatsApp, the tragic loss of life, the endless Covid-19 memes, the under-resourced healthcare workers, the hopeful imagining of a better future, the frightening statistics, the applause on the streets, the community spirit, the human spirit: all of this can happen in a day, an hour, or a moment. And it seems to me that now, more so than ever before, we can tap into this human experience and speak honestly and openly from the heart.
You can see how people are already doing this from the two questions we asked participants during the session:
How are you feeling right now?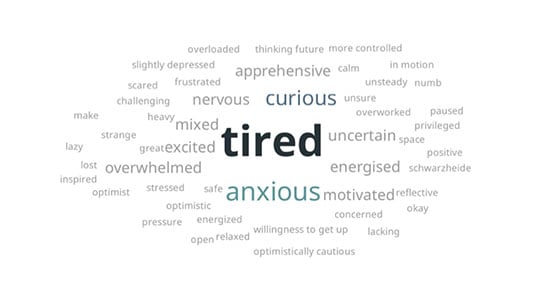 What feelings are you observing in your organisation?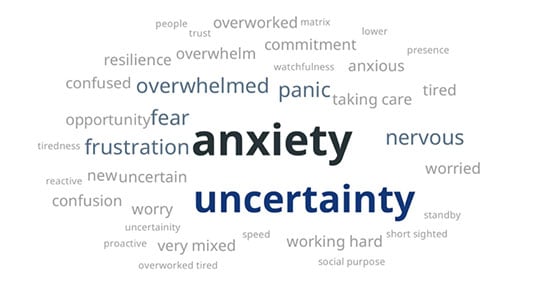 Again, note these responses and see what resonates with you. Here we saw tired, anxious and overwhelmed people, but we also saw optimism, hope and energy.
It's important to remind ourselves that this was a litmus test for that moment in time. There is something liberating about knowing that this will change, this will pass, and that we will feel differently tomorrow.
How do we lead in the new normal? Both in the same way we always have, and also in a completely different and unique way. Right now we need to lead with compassion, empathy, fellowship, trust and humanity. Our top tip is to tune into what you are noticing, what you are feeling, what you are sensing, and what are you witnessing. Do this for yourself, for others, for your teams, for your organisation, and for the world.
What are you noticing? Here's a checklist to get you started:
Pay attention to feelings and emotions – explore their significance.

Pay attention to presumptions or misunderstandings.

Pay attention to your thoughts and mindset – are they limiting?

Pay attention to your routines.

Pay attention to your needs.

Pay attention to multiple perspectives.

Pay attention to the time needed to reflect and explore.
Dom Fitch is a Senior Consultant and Head of Creative Change at Impact.