Ashley Cooper, Photographer and Force4Good collaborator
For the last 20 years, I've been a professional environmental photographer and have spent 14 years travelling to every continent to document the impact of climate change and the rise of renewable energy.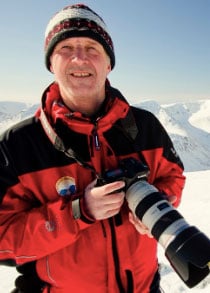 Impact has used my images for over 20 years. When I set up the crowdfunding to self-publish my book "Images From a Warming Planet" (www.imagesfromawarmingplanet.net), Impact generously covered all the design costs involved with the book. Following this, Impact rebranded its website using my environmental images. I've also spoken at Learnfest and at Impact events at the Royal Geographical Society HQ in London. 
I first came to the Lake District at the age of six. My father was a teacher in Blackburn, and their school rented a cottage just down from Black Sail Youth hostel in Ennerdale. In 1960 the cottage had no electricity, and the outside toilet and light were provided by tilly lamps. We used to wash in the River Liza and I learnt to swim there too. I have very happy memories of the holidays spent there.  
My first hill climb was Starling Dodd, which stood above the cottage. I moved to the Lakes in 1986 and have lived in Ambleside ever since. Whilst I've travelled all around the world, it's always an amazing base to return to. 
In 1986 I became the first person to climb every 3000-foot peak in GB and Eire in one continuous expedition. An epic journey that involved over 1100 miles of walking and over half a million feet of ascent. The event raised £14,000 for the British Leprosy Relief Association (LEPRA). I had seen LEPRA's work in Malawi, and following the event, travelled back to the country to meet many leprosy sufferers who were being treated as a result of the money I raised. Following the fundraiser, I got a job with Europa Sport, which sponsored all my gear for the expedition. This meant moving to the Lake District. A 20-year spell followed where I worked for the NSPCC in Cumbria, raising over £3 million for them in this time. 
In my spare time, I've been a member of the Langdale/Ambleside Mountain Rescue Team for 30 years, including spells as Team Secretary and Team Chairman.  
Climate change is simply the greatest threat that humanity has ever faced. Sadly, far too little action has been taken to tackle this, meaning we face an extremely dangerous and unpredictable future. 
Every action you can take reduces the risk of catastrophic climate change; we must never stop trying.