Rich Metcalfe, Owner of Homeground Café, Windermere, Lake District and Force4Good collaborator
Having just celebrated its 7th Birthday, Homeground is a pinnacle of the Windermere community. Situated in the heart of the village, it's the place to see and be seen. As a local, you can guarantee you will know at least one other person in the vicinity. For those who haven't been, think wooden tables, a cosy fire in the colder months, THE best coffee around and a decadent menu of such brunch staples as waffles and eggs benedict. I meet Rich on a typical rainy morning in the Lakes and there is of course, a queue of people waiting to get in and experience the delights the café has to offer. Sat at a table, Mocha in hand (thanks Rich!), we talk about growing up in the Lakes and how Homeground came to be…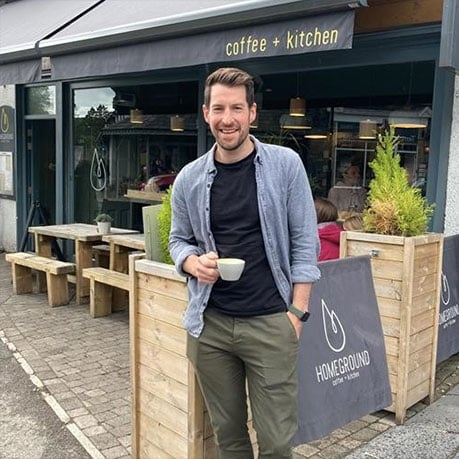 Born in Kendal and spending his childhood in Ambleside, Rich is lucky enough to have grown up in the Lakes, although he describes his younger self as being "Quite apathetic of the Lake District when I was growing up in it, I didn't appreciate it." Now you can find him outdoors whenever he isn't working. 
What do you love most about the Lakes? 
"The outdoors, the fells, gravel cycling, fell running, anything outside and I'm in. I'm very proud that I get to call it home, and I get to live here. One of the things I love the most is that I can finish work and be at the top of the mountain or swim in a lake within an hour. I love that I am able to go on adventures, and I'm so lucky to live in a place where people want to holiday." 
When speaking with him, I am struck by the vivid picture he paints of the environment he so obviously loves. Speaking about his favourite places to adventure in the Lakes, he beautifully describes the Langdales. "There is a magic about it that's hard to beat, but you've got to pick your moments. As it's such a stunning place, you get a lot of tourists visiting, but get it right and you get the magic. I finish work and get out on my bike. It's 9 pm on a balmy summer evening, it's still light and there is absolutely no one else around. I've cycled through the Langdales and climbed Blea Tarn. The sun is setting just behind Crinkle Crags...that's the magic." His passion for the outdoors and our natural environment is abundantly clear. 
What is your favourite memory in the Lakes? 
"The first time I ran the Fairfield Horseshoe was up there. I came into fell-running in later life, as I thought it was absolutely outrageous that anybody would want to do that. As I was leaving the house, my mum said to me 'it's 7 pm at night, there's no way you can do it.'  It took me 2 hours, and I was absolutely elated. My Mum said she was genuinely proud of me and didn't think I could do it. Having Fairfield Horseshoe to myself was amazing, and afterwards, I jumped into Rydal water for a swim." 
How do you think the Lakes have shaped your life? 
Having the opportunity to have a business in the Lakes is not something I ever imagined, I sort of fell into it, and I'm very lucky. There is nowhere else I would want to be. I feel like I'm a part of a community, being a business owner in Windermere. It's also pushed me to adventure more, and make the most of living here, spend less time inside, watching tv etc" 
Tell me the story of how Homeground came to be?
"When I left school, I went to the University of Bath and studied for a degree in Biology. When I graduated, I moved back in with my parents in Ambleside, to save for medical school as I had ambitions to be a doctor. I worked part-time at Westmorland General Hospital in Kendal and part-time at Chesters café in Skelwith Bridge, near Ambleside. I loved working in the café so much, that it turned into a full-time job. It was there that I met Dave Howarth (previous owner of Renoirs café, which was where Homeground is now). He approached me and asked if instead of working in a café, did I want to own one. My first reaction was to laugh. I never ever thought I would have the courage to own my own cafe. I was obsessed with cafes at that time, I travelled the country to go to different cafes, experiencing the different coffees and food they had to offer. I honestly never thought I would have the stomach to do it myself. I suppose it was fortuitous with being approached by Renoirs. We knew him quite well and he wanted the building to go to a local."  
When asking him what it's been like as the owner of Homeground over the past 7 years, he describes the turbulent times "It's been a massive rollercoaster, and there is never a dull day, which still surprises me, even after 7 years. I couldn't imagine doing anything else, but it's not a lifestyle I would recommend. It's all-encompassing, I live and breathe the place, and never really get a day off. Without having done it, you would never know what it really takes. It's a huge commitment." 
On the topic of sustainability, he tells me "We use direct trade coffee, so all of our coffee roasters have a direct relationship with the farmers. As they have personal relationships with them, they are able to make sure they are looked after. All of our takeaway packaging is compostable, and we barely have any food waste. We also use local suppliers and use as much local produce as we can. It's definitely difficult to focus on those kinds of things when running a busy business, but you've got to do your bit. We also have a lot of people visiting this area and we need to make sure everyone looks after it. I'd also encourage others to enjoy living here and have a good work/life balance. Not so many people are lucky to live here. Going forward there needs to be a real effort to ensure that people can afford to live here, we are in a current crisis with house prices and there soon won't be any staff in places people want to visit." 
What excites you about the future?
"Business-wise, I'm excited about food. What we can do that's different, is what separates us from other people. Long term I would like to open another Homeground somewhere else in the Lakes. There are no definite plans yet, but I'd like to grow the brand. I want anybody visiting the Lakes to see Homeground as the go-to brunch place, and hopefully create as important a focal point in the community." 
"Personally, I'm excited about spending the rest of my life in the Lakes, discovering places I don't know about, going on more adventures and just generally enjoying the outdoors." Now that sounds idyllic!  
Find out more about Homeground café on their Instagram page.