Winnie Poaty, Entrepreneur, @winniepoaty 
Meet one of our Impact Force4Good collaborators, Winnie Poaty. She is an open water swimmer, and advocate for mental wellness and diversity. Winnie is based on the shores of her beloved Lake Windermere and has lived in the Lake District for 16 years, having moved from Manchester and, before that, the Congo. 
"When I was a child, we were not encouraged to swim as the sea was a dangerous place, but I love being by the water. When I first discovered Windermere, I fell in love with the place and when my children learned to swim, they taught me, and now I love swimming in open water." 
When I met Winnie, I was struck by her amazing energy and enthusiasm. Her love for the positive effects of wild water immersion, swimming and paddle boarding on mental health is something she is clearly passionate about. She is running a holistic event in May on Windermere that combines swimming with yoga and Afro drumming. 
Winnie wants to inspire others to take up swimming and, from what I see and read on Instagram, she is already doing this. She is also driven by encouraging more of the Black community to take up swimming.
"Representation is so important; you can't be what you can't see." 
When I described our Impact office move in June and the purpose behind it, I could see a twinkle in her eye, recognising the love for the outdoors and the Lakes, and what an amazing effect they can have on the human mind, body and spirit. The whole idea of Force4Good is to share inspiring stories.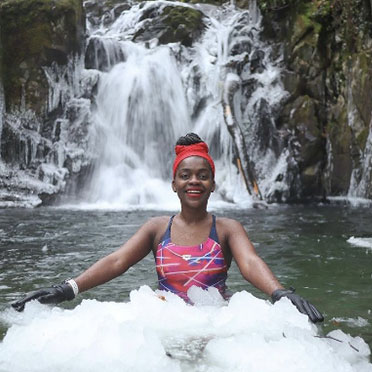 Photo by James Kirby 
Winnie Poaty is a walking inspiring story. I defy you to not want to swim after you meet her! 
You can find out more about Winnie's Win Outdoor Foundation or follow her on Instagram @winniepoaty