What does success look like for you?
To track and support the outcomes from the roll out of programs we suggest using the following structure as a basis to determine the most relevant evaluation level and evaluation source.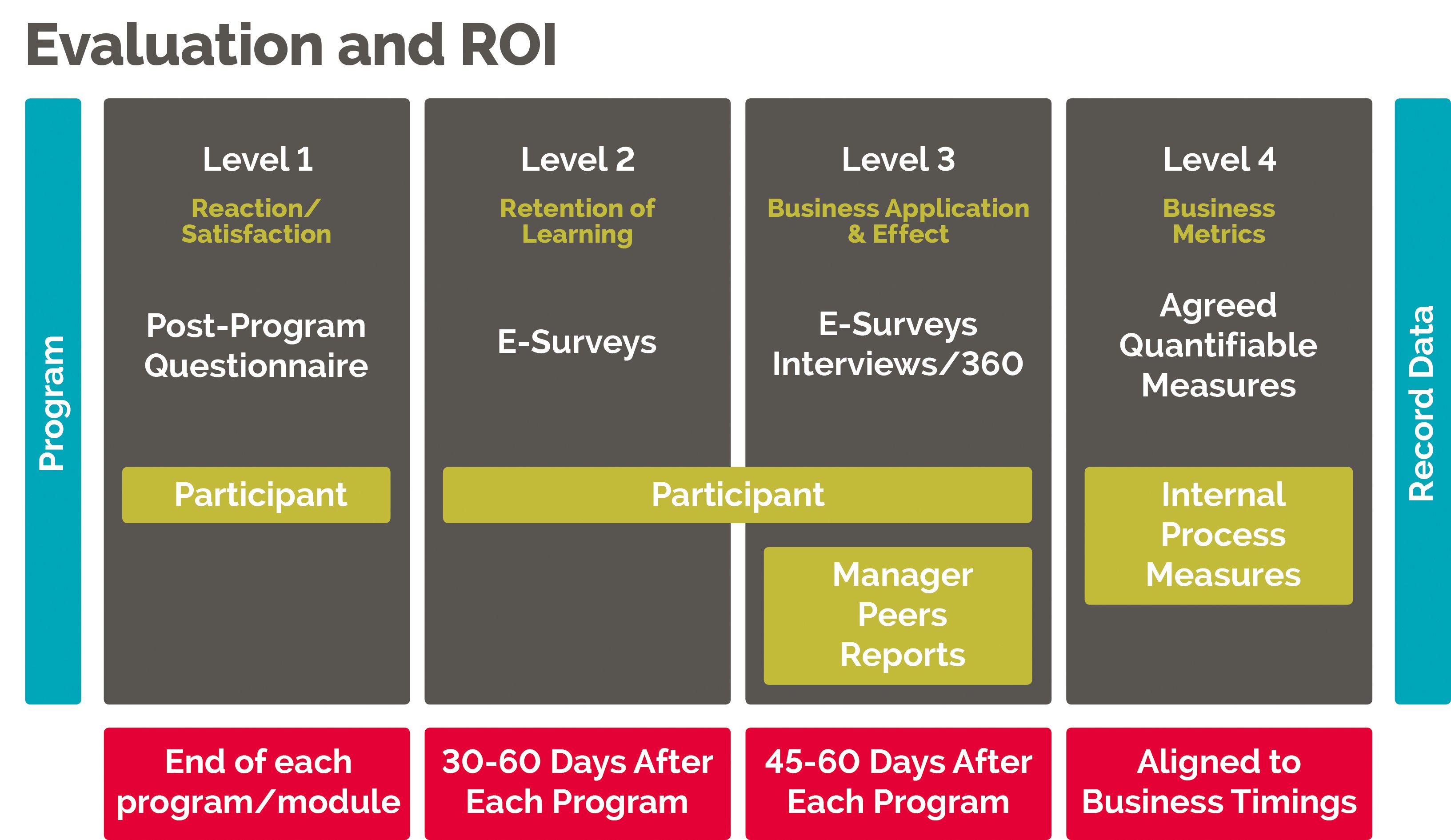 Level 1 – Participant Reaction (Post Program Appraisals)
All participants are requested to complete post program hard copy (or online) questionnaire at the completion of each program/module. It assesses all the key aspects of the content and provides an immediate measure of participant engagement and satisfaction. It collates quantifiable measures of each participants' perception of program content and quality, as well as written feedback and suggestions for improvements.
Level 2 – Learning Acquired (Online Questionnaire)
With this type of learning we are looking to measure the impact of the overall program on learners' knowledge, skills and attitudes.  An online questionnaire is sent to participants 1-2 months after the program and asks participants to score their skills knowledge and behavior levels. This allows for pattern tracking and analysis across different programs and participants. 
Level 3 – Business Application & Effect (Behavior Change and Outcomes)
This level of evaluation looks to measure how well participants have applied the new skills, knowledge or attitudes gained as a result of their learning.  Here we are concerned with their ability to apply the learning from the program to their working environment. The aim is to generate a full perspective on changes in work-based behavior (participant) and its perceived effect (participant/Manager/Peers/Reports)
Level 4 – Business Metrics (Identify Metrics & Track Data)
The intention here is to demonstrate, the return on the investment in the program through 'bottom line' business benefits and quantifiable changes in organisational performance. Directly attributing training and development improvements to outcomes in service performance is always difficult to achieve due to the complexity and number of other variables that influence overall organisational results. However, with context in consideration, sample metrics could be; Retention/Attrition, Engagement, Promotion, Quality Controls, Operational Outputs, Efficiencies & Cost Savings, Increase in Outputs/Service/Sales.